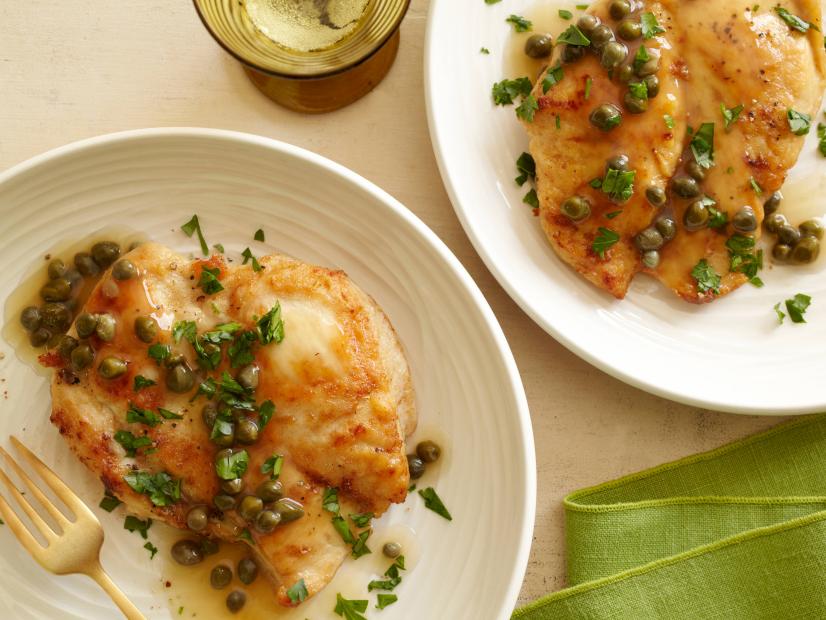 Recipe from Food Network
Ingredients
1 pound thinly sliced skinless, boneless chicken breast
1 tablespoon flour
1/2 teaspoon salt
1/4 teaspoon paprika
2 tablespoons olive oil
1 large lemon-half thinly sliced, half juiced
2 tablespoons butter
1 medium shallot, chopped
1/3 cup white wine or dry vermouth (I skip this)
1/3 cup chicken broth (I use 2/3 cup since I skip the wine)
I like to add 1/4 cup capers, drained and rinsed
Directions
Arrange chicken pieces in a single layer on a large plate or a tray. In a small bowl, mix flour, salt and paprika. Sprinkle half of the seasoned flour over chicken. Turn pieces over and dust with remaining seasoned flour.
In a large skillet, heat oil over high heat. Add lemon slices and cook 1 minute on each side; remove and set aside. Add chicken pieces to pan in a single layer and cook until golden brown outside and white inside but still juicy, 1 to 2 minutes on each side; remove to a platter.
Melt 1-tablespoon butter in the same skillet over medium heat. Add shallot and cook until softened, about 2 minutes. Pour in wine, broth, and capers and bring to a boil over high heat, scraping up any brown bits from bottom of the pan with a wooden spatula; boil until reduced by half, about 1 minute.
Stir in lemon juice and remaining butter and pour over chicken, garnish with chopped parsley.